C-Span brings political process to McClintock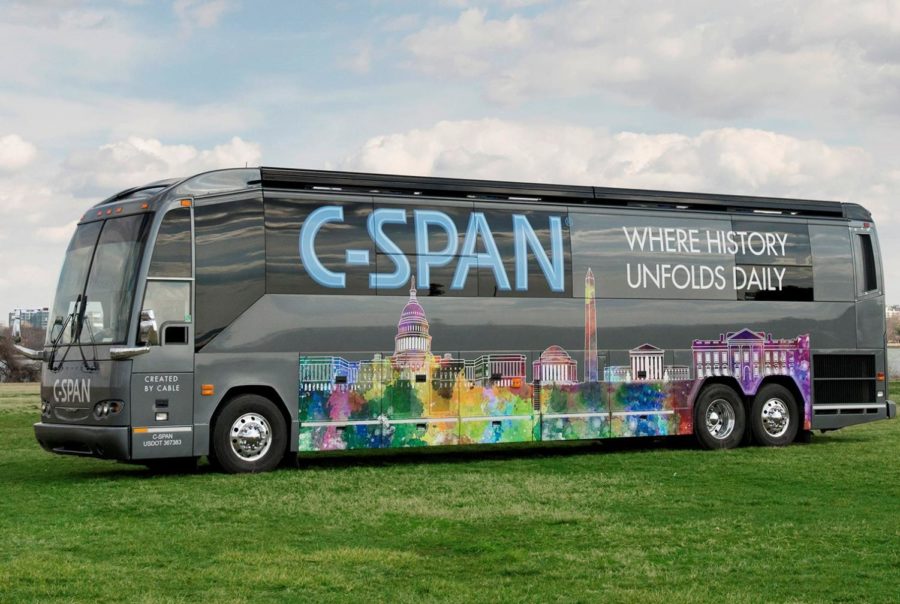 WASHINGTON/PHOENIX – The C-SPAN Bus, partnering with Cox Communications, will visit McClintock High School on March 6 from 7:30 to 9:30 a.m. to engage students, teachers, community members.  The nationally recognized 45-foot customized C-SPAN Bus is on a "Southern Swing," traveling for eight weeks through Tennessee, Alabama, Mississippi, Louisiana, Texas, New Mexico and Arizona.
Through interactive kiosks and demonstrations aboard the bus, visitors will learn about C-SPAN's in-depth coverage of the American political process and comprehensive online educational resources, including C-SPAN.org – an extensive video library containing close to 250,000 hours of searchable content for viewing, research and education purposes, dating back to 1987. In addition, bus visitors will be invited to share their thoughts on what it means to be an American for C-SPAN's "Voices from the Road" project.
"We are excited for the opportunity to meet, engage and share our resources with residents along our 'Southern Swing' and to hear from people about what being an American means to them," said Heath Neiderer, C-SPAN Marketing Manager. "Some of the cities on this tour haven't seen our Bus in many years. We hope they enjoy their experience aboard our interactive mobile classroom and discover new ways of keeping well-informed."
Susan Anable, Southwest Vice President of Public Affairs, Cox Communications, said, "At Cox we believe life is better with more moments of real, human connection, so we couldn't be more excited about
C-SPAN's long-standing tradition of bringing people together to learn about the world. Our partnership through this interactive experience provides our community the opportunity to engage in meaningful conversations, ones that students will remember long after their time in school."
Aboard the high-tech, interactive C-SPAN Bus you'll find:
Access to an exclusive interactive experience available on 11 large-screen tablets featuring C-SPAN programming and myriad of political and educational resources
A smart TV and classroom area for conversations with students and teachers
A high-definition TV production studio for taped and live programming
A 360-degree video station featuring C-SPAN's unfiltered coverage of high-profile events and insightful, behind-the-scenes tours of U.S. landmarks
A D.C.-themed selfie station where visitors can share their Bus experiences through social media
Students of the Film and TV program, along with students from the AP government classes, will tour the bus in 15 minute increments.