Swim dives into competition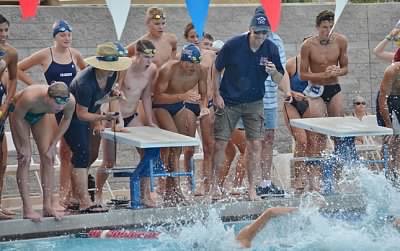 Hang on for a minute...we're trying to find some more stories you might like.
McClintock's Swim and Dive team competed in their first meet of the year last week on Thursday against Higley High School and Tempe Prep Academy. Our girl's team beat out the other teams by about forty points, and the boy's team came in a close second, losing by only five points. However, both teams had a lot of successes.
The teams swam in a tri-meet, entering three swimmers per event. They had a very strong start to the year.
"I went pretty solid times for where we are in the season. My times are faster than I was last season at this point by a good two seconds," Girls Co-Captain McKinley Becraft said.
Despite not winning, the boys team also had a strong and overall successful first meet.
"It was a pretty close race, we almost won. A lot of guys improved on times since last year, so that's what we're gonna keep trying to do," Boys Co-Captain Timur Karamanov said.
There were several individual successes as well. Becraft, Amanda Bley, and Sophie Velitchkov all won in each of their two individual events.
The outcomes of the meet do not affect the team's chances of going to state. Their first of three opportunities to qualify will be at their first invitational, the "Knight's Invite" on Sept. 24, hosted by Higley High School.