Pink Panther Strikes Back: Shaul Leket-Mor Spotlight
Hang on for a minute...we're trying to find some more stories you might like.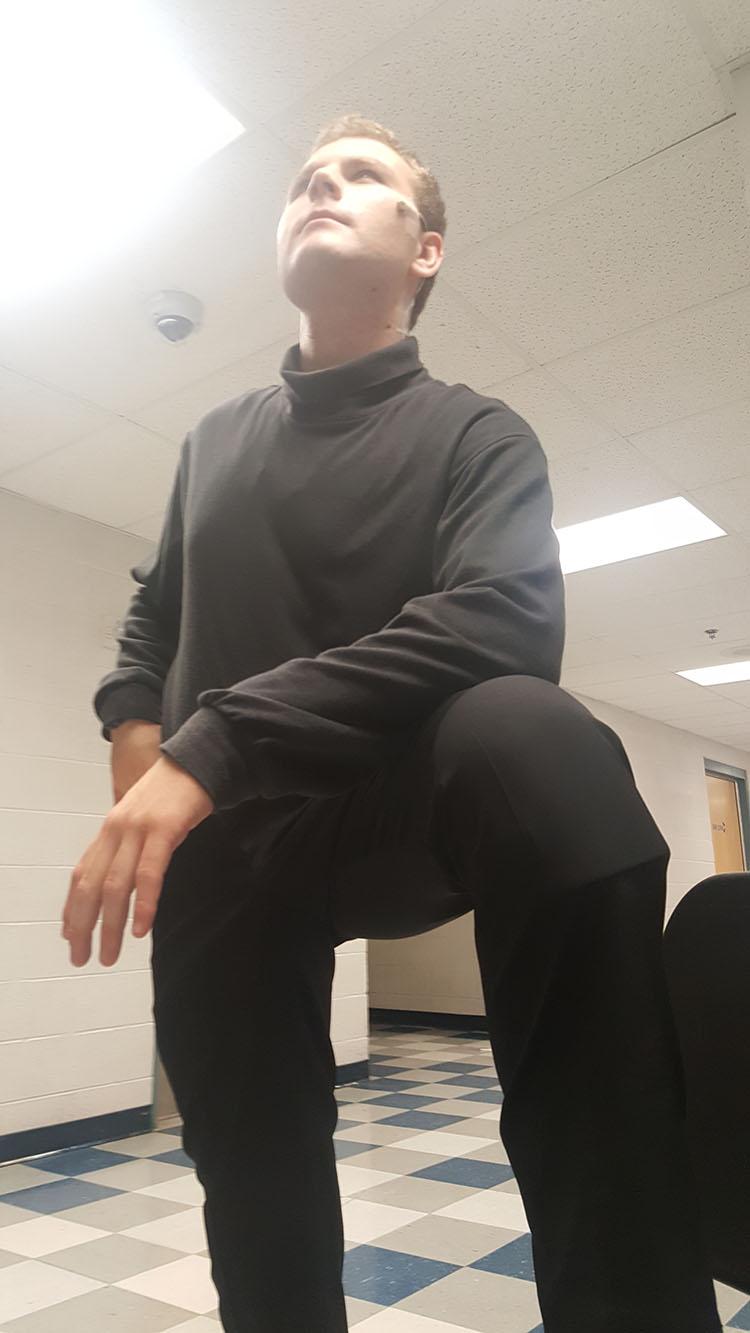 What is your role in the play?
Shaul Leket-Mor: I am playing Dreyfus who is the villain of the play. The script is based on the previous movies and he was the chief inspector's boss, but he became crazy. This is the story of how he became better and then got crazier and essentially kill the guy.
How long have you been preparing for the role?
Leket-Mor: I have been preparing for this role about a month
Every day I have put at least 3 hours of rehearsal and especially towards performance on dress rehearsal we were here from after school until 9 or 9:30
Have you been in any other plays?
Leket-Mor: I have been in every single play I could have possibly been in. I was cast by the director in 4 one acts last year hand had to learn the scripts in one week.
What do you like most about your role?
Leket-Mor: I like how crazy I become it's really fun to be able to try and kill Ben's character. I mostly enjoy playing evil characters. I think it's more interesting and I can do more with those characters.
What is the most difficult thing about your role and how do you overcome it?
Shaul: The hardest thing about this character is I am in a French accent, and I have to work on slowing down those lines, because it's hard for the audience to understand when you are speeding through those lines.
How do you like working with Ben Pope?
Leket-Mor: It's very fun. We have known each other for a long time so we have a lot of synergy. I think that's visible on stage. Our first scene together i think it's my favorite scene in the play. In it we are just accidentally hurting each other and it's a lot of fun. The best scenes that we have are the scenes we have together.
How do you like working with the other actors?
Leket-Mor: Everyone is doing a good job and we are running on a tight schedule, especially with the crew. There are only 20 crew members and that's ridiculous in a play like this. And they are doing a great job. There are a lot actors doing a really good job and they are inexperienced they don't know exactly is going on, but that's fine because it's a learning process. I enjoy working with the younger actors. I'm really want to see where McClintock takes its productions after I graduate.
What is your favorite moment from the production of this play
Leket-Mor: I enjoy most the end of the performance. Because in the beginning it's just slow and you are not completely sure, but towards the end you have everything figured out. You have done everything and know all your lines, you are more comfortable on stage. It's so much fun being able to perform those lines and do it from the stage.
It's the biggest role I have had. So it's different from me. In previous shows you have smaller roles you're not paying attention overall to the play. You don't know what what every scene is. For example my first play I was a sailor in The Tempest and I have no clue what happened during the entire thing. I was on one scene in the beginning and one at the end and it was a very short thing I had zero lines and that's fine, because I didn't have to pay attention to everything. Now I have to constantly focus on what's happening onstage because I'm going to be going on in a few scenes. I don't have just one or two scenes I'm an Important part of the story and I can take in a lot more.
Anything else you want to say?
Leket-Mor: I was thinking about what you said about the hardest part of the character, and I would say performance wise the hardest part is the french accent, but also Ben and I are just abused throughout the show. We have to keep falling down, I have bruises all over, our mic is strapped to our chests with duct tape. So you can imagine how much it hurts when we rip it off at the end. How uncomfortable it is when we are sweaty and itchy and have to keep it on. Also we are changing this right now, but there is this scene where my face gets hit on the cheek with baby powder and inhaling baby powder is not good for you. Last night it was hard to breath, waking it was hard to breath, which is a scary thing, but we are changing that baby powder thing so I don't have to worry. Ben and I are hurting all the time and it's fun, it's the sacrifice for the art. Last year I shaved my head to play a role. I was playing Uncle Fester.