MHS Bonfire this Wednesday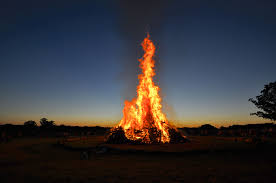 Join us this upcoming Wednesday, October 30th for McClintock's annual bonfire. It will be held on the McClintock High School football field from 5:30 p.m. to 8 p.m. Fun activities will be there, including the hammer slam, photo booths, pie in the face and more. Plenty of food, such as pizza, tacos, and delicious s'mores, will also be available for purchase.
The bonfire will light around 6:20 p.m. The band, cheerleaders and captains from McClintock fall sports will be leading the lighting of the bonfire.
There will be an entrance fee of $4 or 5 canned food items. All proceeds will be donated.
See you there, Chargers!