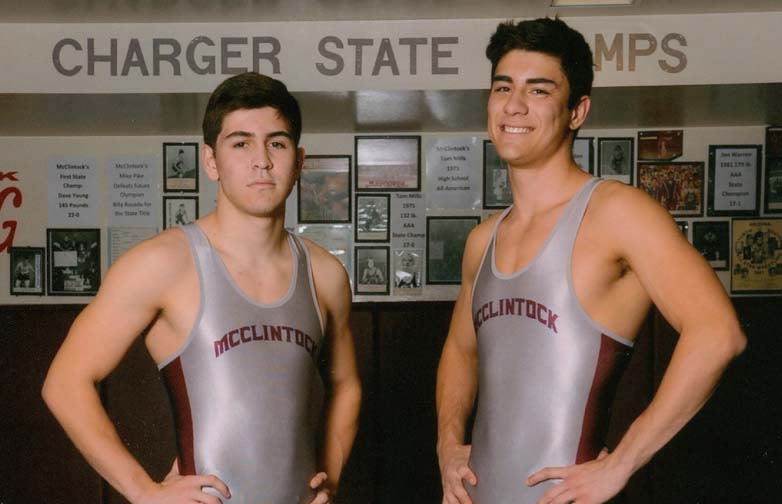 McClintock's wrestling team brought only four competitors to the 2017 Division II State Championships at Prescott Valley Event Center February 10 and 11, but those four produced enough points to propel them to 7th place with 65 points. It was the highest state team finish for the Chargers since 2008 when they placed 6th.
Juniors Gator and Marco Groves earned the bulk of the scoring (a whopping 54.5 combined points) en route to their third straight state titles. The twins have made Arizona wrestling history each year: they were the first freshmen twins to win titles two years ago and followed by being the first to repeat as sophomores. They pulled a hat trick and did it again this year. The 2016-17 campaign was perhaps more impressive considering both moved up multiple weight classes to wrestle bigger and stronger opponents. That didn't seem to be a problem for the brothers, who have been wrestling since they were seven years old, since they both posted perfect undefeated records.
Gator finished 53-0 capped off by a hard fought 4-2 decision over Ironwood's Daniel Cain Morris (57-5) to claim the 145-pound championship. He won it at 120 pounds his freshman and 126 pounds last year. His career record is 164-3.
"He was very, very strong," said Gator of Cain, an old workout partner and friend going back to their junior high days back at the Grand Canyon Wrestling Club. "The game plan was to hold off his power and not give up a takedown in the first period."
Their father and coach Robert Groves said that Gator is very calculating and methodical on the mat. "Once he fended off the onslaught of Cain's attacks in the first I felt he was in a good position," said Coach Groves.
Gator chose down to start the 2nd and immediately switched Cain to pick up a two-point reversal. He then let him up for the escape and got a crucial takedown to end the period up 4-1. Gator gave up an escape in the last period and defended until the buzzer rang.
"In the third I felt the energy leaving him," said Gator. "I knew he was getting frustrated with my Russian two-on-one and was going to have a tough time getting to me."
Gator had a technical fall in the first round, a pin in the quarters and a major in the semis before concluding with the close decision.
Marco made the biggest jump in weight by bumping up four weight classes. He won both of his previous titles at 132, but wrestled at 160 this season.
"I'm a grown man now," joked Marco. "I don't like cutting weight anymore."
Coach Groves enjoyed the season more not having to listen to them complain about how hungry they are.
"I've always told them eat healthy, get strong and just concentrate on becoming a better wrestler," he said. "Marco's natural weight hovered in the 150s but he didn't even want to miss his mom's cookies and milk at bedtime to drop to 152."
Size didn't matter in his first three matches in the 160-pound weight class as he pinned all his opponents to up his pin total for the year to 32. Last year he set the school record with 35. His finals match needed a tougher effort.
"The guy was huge," said Marco of Marana's Blake Proper. "I didn't know what I was going to do."
Coach Groves said Marco kept asking what he should do. "I told him to do what he always does: move him around until he walks into a high crotch or react to whatever presents itself," said Groves.
With a tight 2-1 lead heading into the second period an opportunity presented itself. Marco hit a headlock to send Proper to his back and open up a big lead. "I wasn't looking for a headlock because they are risky" he said. "But when he put his underhooks in and pushed into me with his head sticking up it was just too tempting."
Coach Groves was critical of Marco for his attempt to change position when he already had him on his back which let him escape. "If you have the lead and you have a guy on his back you should just freeze," he said. "You just burn him out with his effort to prevent the fall and suck up the time."
Marco had four takedowns in the match and gave up three escapes and stalling points which made it a 12-6 final. He gave up only one takedown the entire season. He finished 52-0 for the year. Last year he was 62-0. His four career losses came in the first semester of his freshman year when he was wrestling up in weight. He now has 141 consecutive wins (4th best all-time in Arizona). His career record stands at 163-4.
The other two Chargers McClintock brought made some noise but each fell one match short of making the podium. Senior 113-pound Alex Kunitada went 2-2 with a pin and a decision. He qualified for state with a 3rd place at sectionals and finished 37-14.
"Alex started with no wrestling experience his freshman year, but improved dramatically each year," said Groves. "We hoped for a four, five or six spot, but he lost a close one to finish his career."
Making the most dramatic improvement was senior 170-pound Kevin Sosa. It was only his first year of wrestling and he had a staggering 30 pins mostly from throws. He lost a tight match in the quarterfinals that would have guaranteed a place. He then lost a heartbreaking 4-3 match late in the consolation round that also would have given him a place. Sosa, who qualified with a 4th place at sectionals, knocked off the top seed of another section by an impressive 19-3 technical fall in the first period to start the tournament.
"I couldn't believe how he was throwing that guy around like a rag doll," said Groves. "I thought for sure he would make the semis."
He also had a pin by a toss in the consolations. He finished his one and only season 36-13, with most of those losses coming early in the season.
"If I had him for one more year there is no doubt he would be a state champion," Groves said. "His lack of experience caused him to lose a couple of matches that he probably should have won."