Masks mandated indoors effective immediately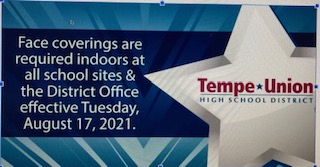 As of Tues., Aug. 17, staff and students at all Tempe Union High School District schools will be required to wear masks. This is after coronavirus cases have continued to rise due to the highly contagious Delta variant. 
There is evidence to suggest that, according to the Center for Disease Control, mask-wearing provides a  "70% reduced risk" (Payne 2020) of contracting COVID-19, and many have been pushing for a mask mandate since the start of the school year.
 Arizona Governor Doug Ducey had previously banned school districts from requiring masks in their classrooms, but that ban does not into effect until Sept. 29th.  Many districts around the state have decided to implement mask mandates until that time. 
More discussion will follow.